Leverage the Power of Positive Reviews for Your Dream Ride
Did you know that your customers can share their positive experiences online? At Dream Rides, we're committed to boosting your bookings, and one way we do this is by leveraging the praise and validation of your satisfied passengers.
Here's how it works:
After each booking is completed, we'll send an email to your passenger asking for a review.
Your passengers will then be able to write a review of their experience with you and your car which can be uploaded to your vehicle listing.
You can also encourage them to upload photos of their dream day and of course, share the star of the show – your dream ride.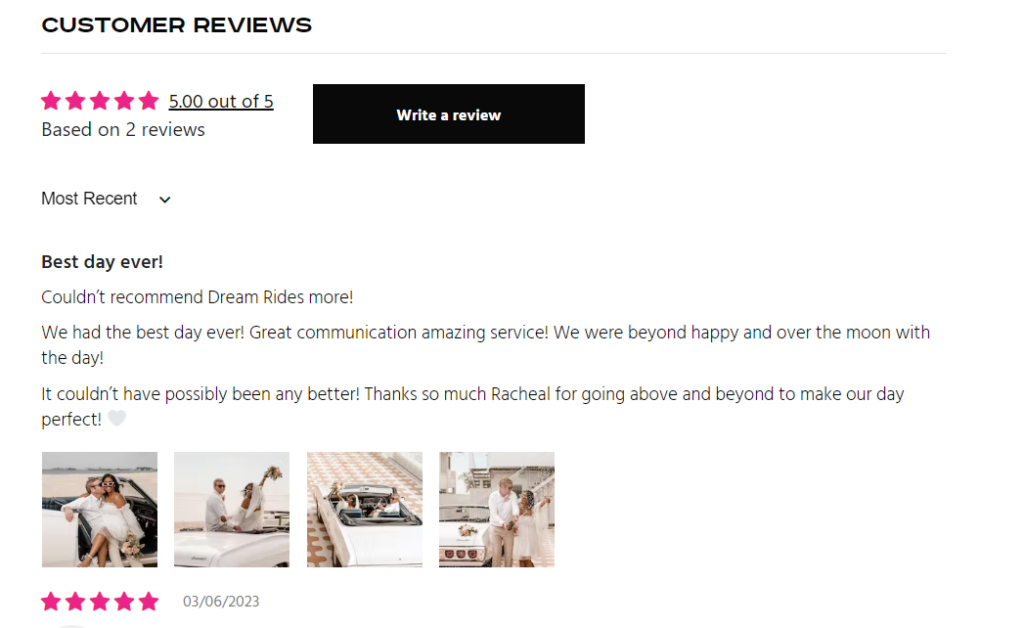 Maximize Your Promotional Efforts by Encouraging Passengers to Follow and Tag Us!
In addition to the above, remember to also promote our Dream Rides signage to your passengers. This signage features a QR code on the back that's easy to access and directs passengers to our social media channels. Elevate their experience further by encouraging them to follow and tag us on social media. Imagine a fun Tik Tok or Reel from the back seat of your awesome ride, or perhaps a video clip from your passenger's Insta worthy arrival. This simple addition will leave a lasting impression and create an opportunity to gain future customers, ultimately helping you to boost your bookings. Don't miss out on this chance to maximize your promotional efforts!