Introducing Mr and Mrs Hughes, a stunning couple from New Zealand who made the most of the picturesque Gold Coast by choosing Miami Beach as the setting for their intimate elopement. Their love story began with a chance encounter three and a half years ago when Anthony rescued Abigail's little dachshund, Franklin, who had escaped from the backyard. This chance meeting blossomed into a beautiful love story that culminated in their vows being exchanged on stunning Miami Beach on the Gold Coast in Queensland.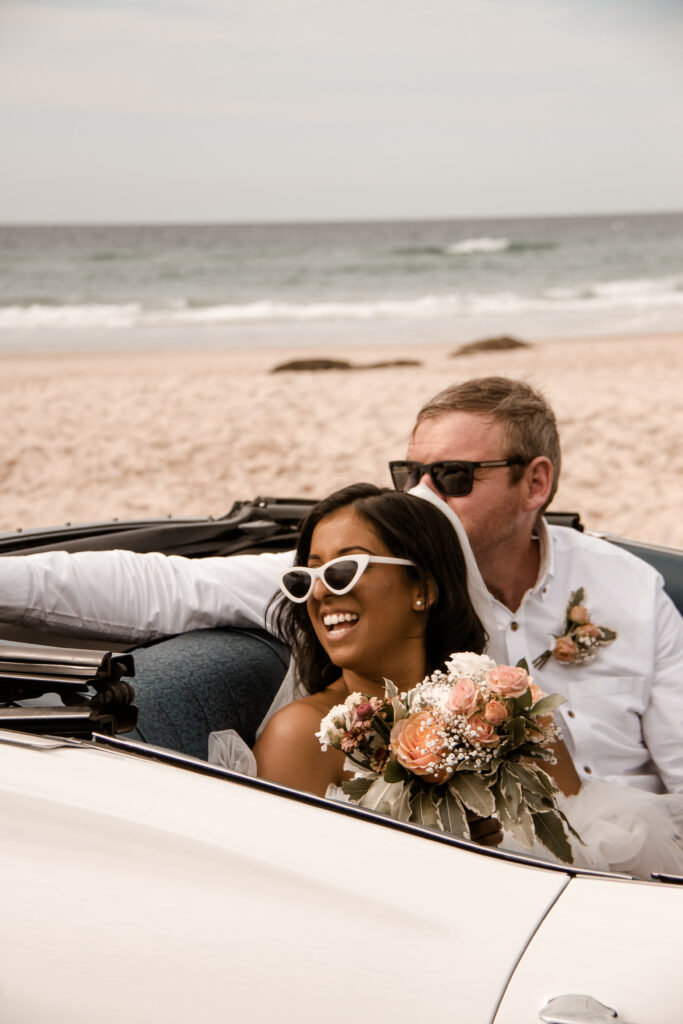 Abigail, a future Commercial Interior Designer, tied the knot with Anthony, a Scottish site foreman and carpenter, in a beautiful and timeless elopement ceremony. The event was filled with love, family, and friends, symbolizing the start of their lifelong journey together. The ceremony was officiated by Sue from @celebrant.sue, whose friendly, laid-back demeanor added a special touch to the heartfelt occasion. Anthony's best friend and his son from Melbourne, as well as Abigail's sister, brother-in-law, and two nephews, were present to witness the event, creating an intimate and meaningful celebration.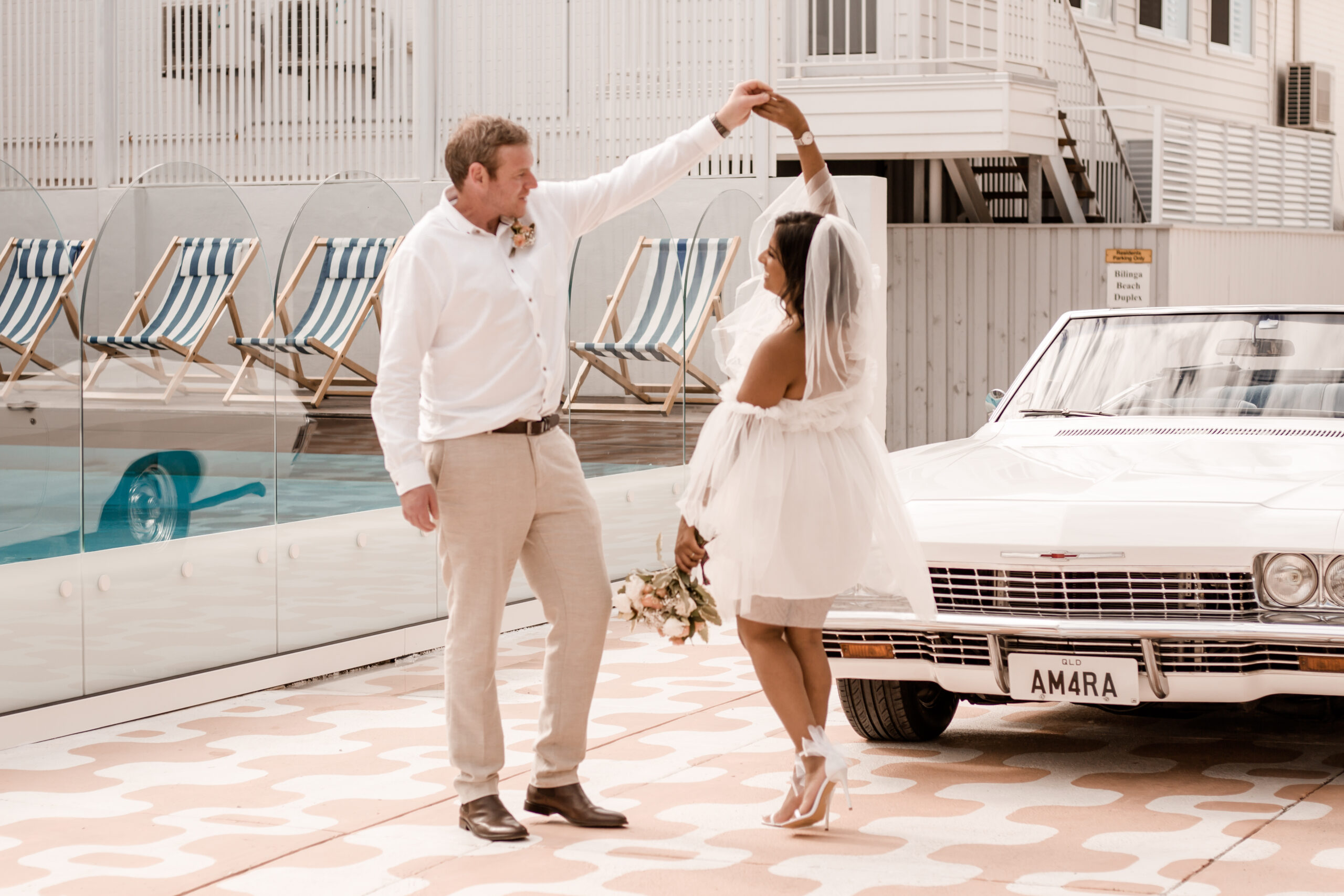 Abigail was a beautiful bride who looked simply stunning on her special day. With the help of Heather Pinard from @Natalielucasmakeup, her hair and makeup were flawlessly done, accentuating her natural beauty. Her carefree happiness radiated in every photo, making her the perfect bride, and showcasing how overjoyed she was.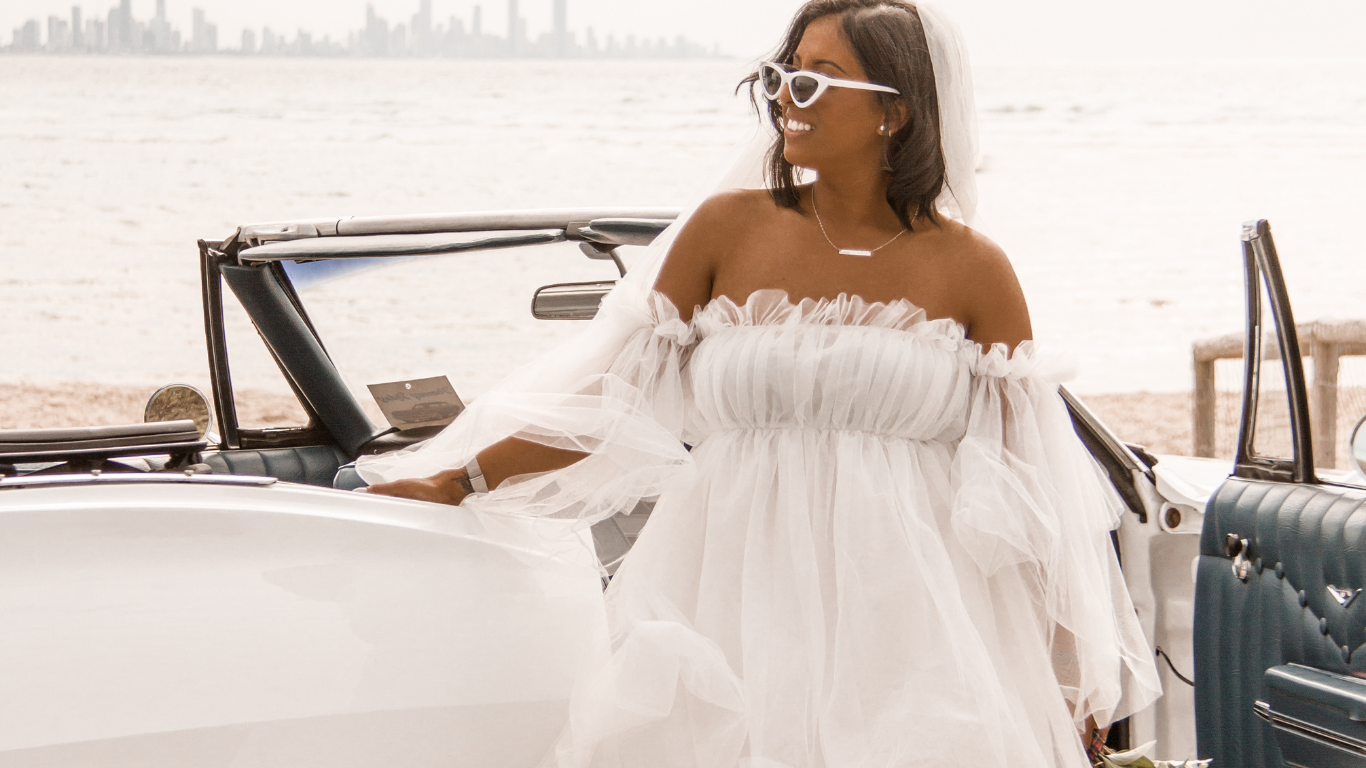 The Memorable Touch of a Classic Car:
Abigail and Anthony's special day was made even more extraordinary with the inclusion of a 1968 Chevy Impala Convertible, booked through the Dream Rides website. This vintage beauty added a stylish and charming touch to the event. Abigail described the feeling of joy and carefree fun as a moment she will always cherish. Rachel, the car owner and driver, provided excellent service, and it was lovely to see her beautiful vehicle as the show-stopping extra element to their wedding day. Her chauffeured wedding transportation was perfect for the occasion and ticked all the boxes.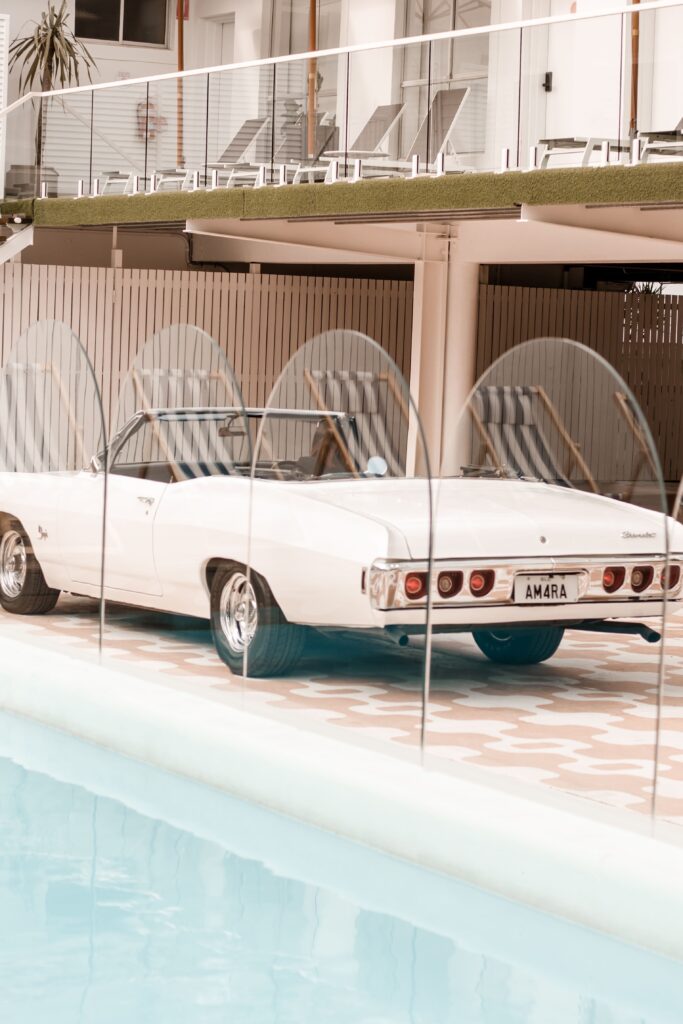 The Impala was the centerpiece of the wedding photographs, beautifully captured by Bree from @Mialmaphotography. The stunning images showcase the couple celebrating their union with natural and happy poses from the backseat of the Impala. Abby even donned cool shades as she raised her bouquet in a symbol of joy. All these moments perfectly captured the essence of love and the laid-back  vibe of the couple's perfect wedding elopement.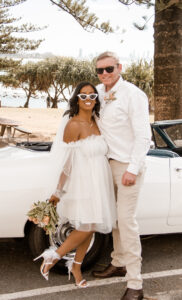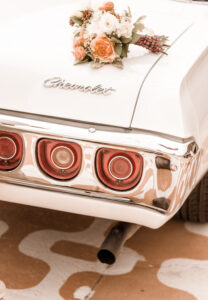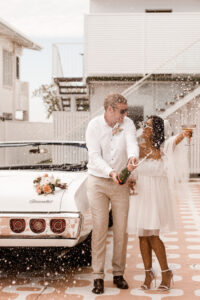 Additional Context on a Beautiful Elopement:
The elopement's theme was a combination of timeless, classic and vintage elements, which was evident in the carefully curated details of the ceremony. The custom-designed rings by John Franich NZ + Mark Sokolich and the stunning bouquet and boutonniere by the talented Maddy from Flowers on @flowersonq were some of the highlights that enhanced the wedding theme. The beautiful details, meticulously chosen by the couple, completed a perfect elopement experience for Abigail and Anthony.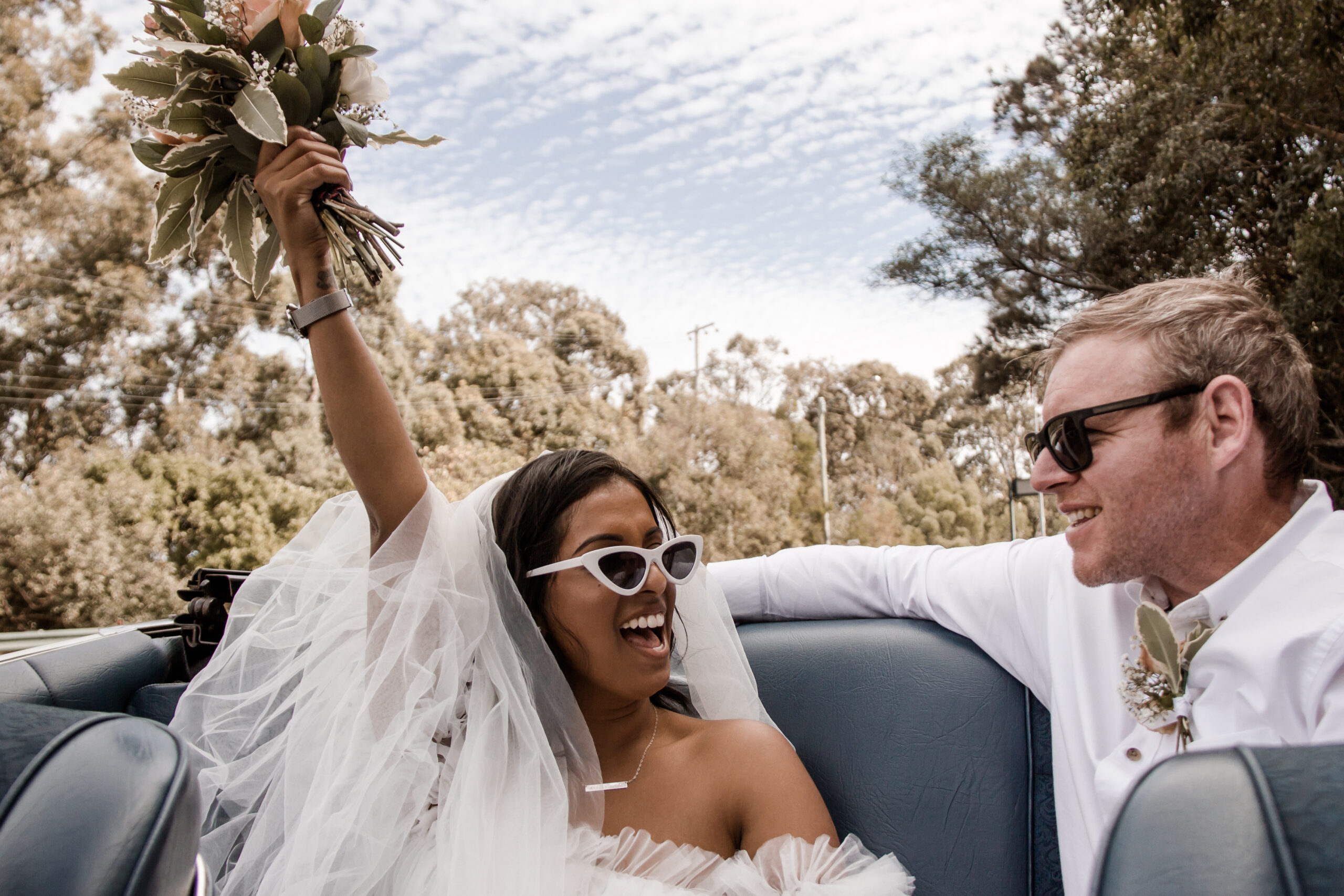 As the wedding festivities drew to a close, the newlyweds indulged in a delectable wedding cake baked by the talented Chelsea Cooper of @coolycakes. With glasses in hand and the warm Gold Coast sun shining down on them, they kicked off their new chapter in the most perfect way.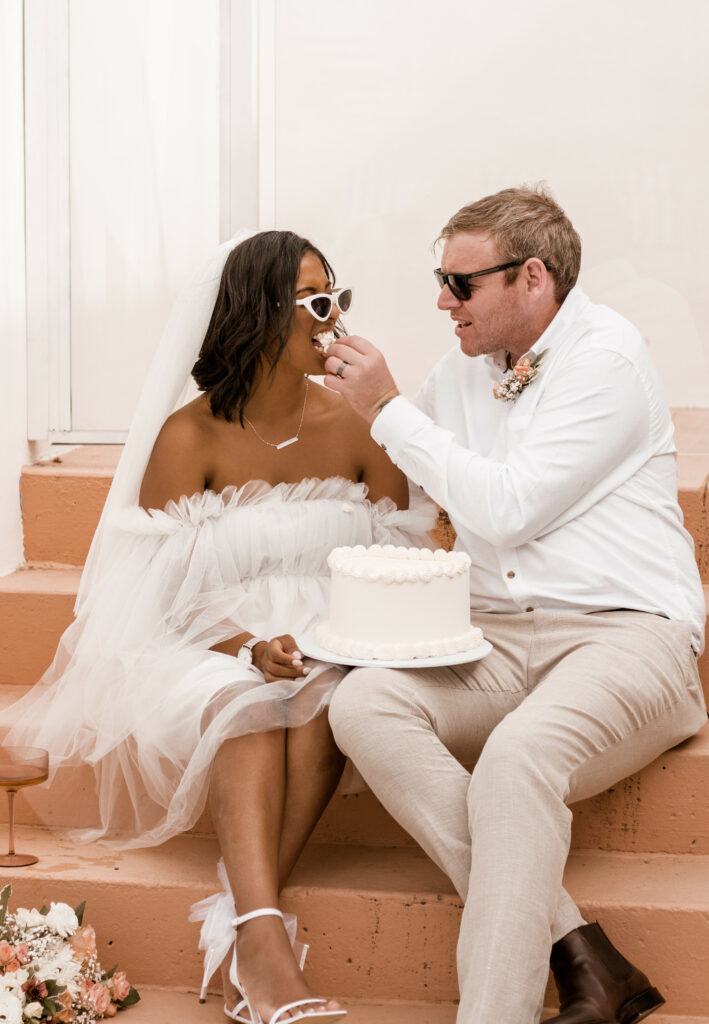 Elevate Your Special Event with Dream Rides Vintage & Unique Car Hire
Dream Rides Vintage & Unique Car Hire offers a range of classic cars, from Classic Mustangs to Kombis, and other unique rides to make your special event one to be remembered.  Dream Rides provides luxury transport options as well as cool unique rides available for hire on the Gold Coast, Brisbane, Sunshine Coast, and Sydney. Add a touch of sophistication to your wedding or formal event by hiring one of our chauffeured rides. Not only do these timeless vehicles provide a luxurious backdrop for wedding photos, but they also offer an unforgettable experience. Make your special day unforgettable with a vintage car rental at Dream Rides today!