Golden Breed has a long-standing reputation in the surf industry with stores in Byron Bay, Noosa, the Gold Coast and Melbourne.  For their latest product photoshoot, Golden Breed were on the hunt for a cool old car to use, one which portrayed the image of their current line of retro surf inspired surf clothing.  For this particular shoot Dream Rides had the answer!
Finding the perfect backdrop for a fashion photoshoot can be an exciting challenge for many clothing labels. With online shopping being the preferred way for businesses and customers to now connect, having a strong digital presence is vital to increasing sales and being successful. This was the case for Golden Breed, a reputable surf clothing brand seeking an interesting new way to photograph their latest fashion range.
Cool, fun and retro were part of the brief for Golden Breed's latest fashion shoot.  Having used Kombi Vans in the past, their photographer and stylist Emma Bourne was on the hunt for something new and edgy that aligned with the company's unique vision.   And what could be cooler than an Old Skool Cool HG Holden Premier? With its original metallic blue paint, white roof and sandalwood interior the old skool Prem was just what Golden Breed needed to create a relaxed cool retro vibe for their upcoming product photoshoot.

As a trusted, long-established brand, using an iconic piece of motoring history to promote its latest fashion range was a no brainer.  It seems fitting that this original Australian iconic vehicle came off the production line around the time this business began.  Established in 1969, Golden Breed has maintained a longstanding reputation with vintage style which has now become the modern counterpart for its surfing products.  And just like the surf label, the old Prem has withstood the test of time. It's a nod to the past and celebrates the fun and freedom of yester year.
Fashion photographer Emma Bourne said 'I knew instantly this particular car would be a winner. I'd been searching around for a unique vehicle like this one for quite some time. I was excited to be able to deliver a unique vision for my clients.'
And so, with some clever camera action from their creative photographer, the company's assortment of 'classics' for men and women, that is trucker caps and vintage tees were photographed.  This classic vintage car became an interesting backdrop for some cool pics for this fashion photoshoot.  The fun and freedom of the retro inspired clothing line were enhanced by the classic car's cool angles, interesting old skool interior and obvious surf appeal.  Casual beach hangs were on show as the models gave off a fun day at the beach vibe.  The fashion shoot was wrapped up quickly and the photos uploaded to the site within a day… winning!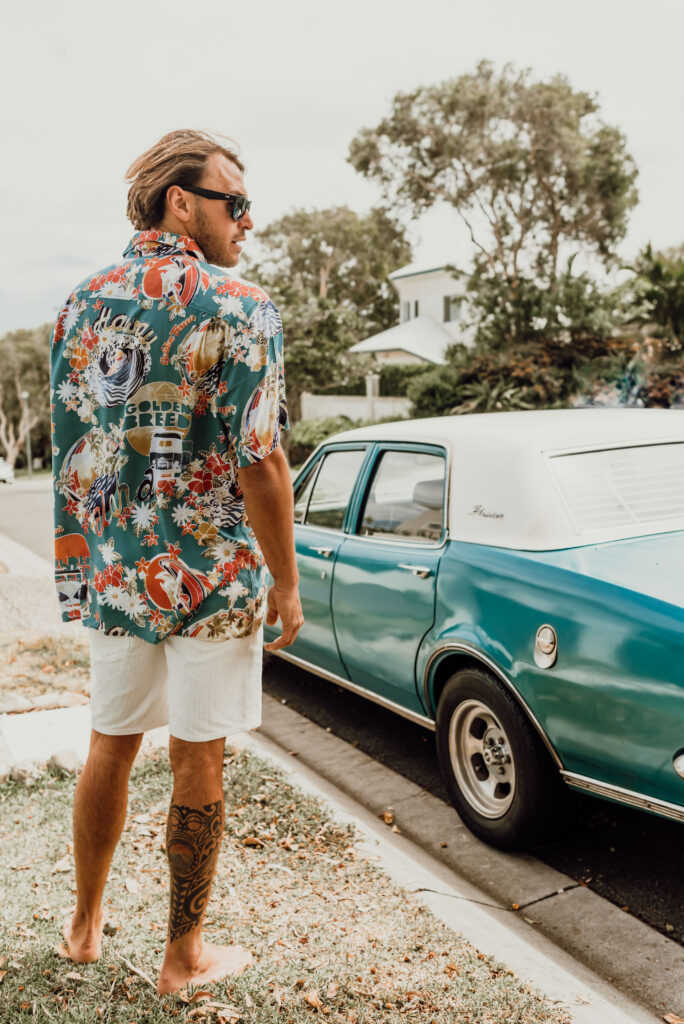 What car represents your unique style?  No matter what your personal or businesses promotional needs are, Dream Rides has you covered. So why not choose from the following categories:
At Dream Rides, we want you to experience the enjoyment one of these cars brings because we are committed to "Bringing the style, fun and thrill of vintage and unique cars from owner to passenger through a professional and trustworthy platform." – Dream Rides Mission Statement
Photoshoot: @goldenbreedsurf
Photographer and Stylist: @emmabournephotograpy